Oliver Bruce Opens £7m Brunel Building at SGS College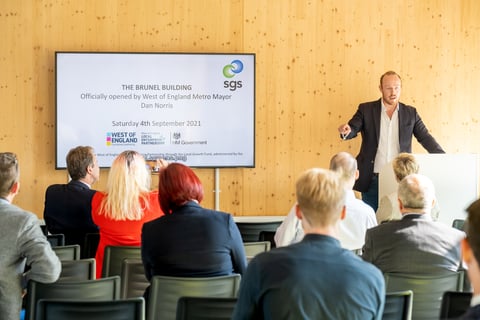 PinPoint Media Managing Director Oliver Bruce headed back to his roots last weekend with a visit to his old college. He visited South Gloucestershire and Stroud College (SGS) to help open their new £7m Brunel Building alongside West of England Metro Mayor Dan Norris.
Oliver was also among the first to check out the colleges new specialist STEM (science, technology, engineering and maths) facilities.
The specialist Brunel building on the college's Wise Campus in north Bristol, is the new home to sixth form Science, Technology, Maths, and Engineering courses. It's aim is to 'change people's lives positively and add value to the social and economic well-being of our communities.'
The three-storey Brunel Centre building at South Gloucestershire and Stroud College has put sustainability at its heart, with a number of key features prominent in its design.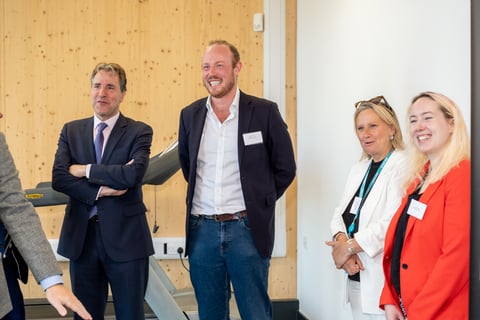 This included using a cross-laminate timber (CLT) frame for the building instead of a traditional steel frame, preventing 445 tonnes of carbon from entering the atmosphere and providing a significant positive impact on the building's carbon footprint.
The building is completely naturally ventilated, using air source heat pumps, and there is a photovoltaic system integrated into the building's brise soleil. There is also a 'live' monitoring panel in the foyer where students can see exactly how much energy, water and other services the building is using.
The building is also highly insulated and sealed, this combined with the natural ventilation and lighting, solar panels and the CLT frame, makes the Brunel Centre a highly sustainable building. The project also replaced the 400 sq. m of car park and tarmac with wildflower meadows to encourage biodiversity on site.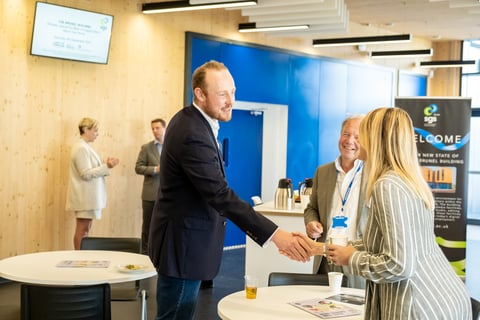 The Brunel Centre also uses high ceiling heights, which have been designed to help improve the health and
wellbeing of those in the learning environment.
The 1722 sq m building sits across three storeys and provides teaching and learning spaces for hundreds of students for STEM and creative subjects.